After college, Rob relocated back to Hawaii and worked for the Top 40 radio station KXPW as a radio host. In 1989, Rob began working part-time sports reporting for KITV in Honolulu. Shortly thereafter, he secured a full time position as the station's weekday reporter and weekend sports anchor. In 1994, Rob joined ABC7 and became the first male Japanese-American TV anchor in Los Angeles local TV news. Most recently, in 2016, Rob was inducted into the Southern California Sports Broadcasters Hall
of Fame.
As a sports anchor, Rob encountered children unable to participate in youth and sports programs because of life's economic disadvantages. He found this disheartening, because, as a youngster, he was active in a variety of different sports and youth activities. The strong family values instilled in him by his devoted parents, along with the traits he learned by participating in such programs--traits such as leadership, perseverance and discipline, helped him to gain the confidence needed to follow and achieve his dreams. The images of disadvantaged youngsters, unable to participate in sports and youth activities, provided the impetus for him to form the Heads Up Youth Foundation. With the support of family and friends, he formed a board of directors, committee and network of volunteers to help in the development and administration of the Foundation. What began as a vision is now celebrating its 23rd anniversary!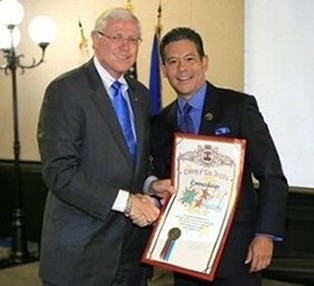 Rob was honored by, Supervisor Michael D. Antonovich, at the "All For the Love of Kids" event for the Foundation's continuing support of foster children through the Los Angeles County Department of
Children and Family Services.